Due to the poor attendance at Rob Ford's campaign kickoff party, his new theme song could be "Half Empty Halls" by The Evaporators.
By most accounts, the April 17, 2014 event was a flop, with low turnout, no "history in the making" moments (another Ford promise broken), none of the celebrity appearances that were anticipated, and a lackluster speech full of lies, clichés and vague pledges. According to some, Ford was even heckled a bunch of times.
TV footage showed a lot of people waiting in line to get Ford T-shirts and bobblehead dolls, but it seems that many of those people were not genuine supporters, and left soon after getting their memorabilia, perhaps to sell online.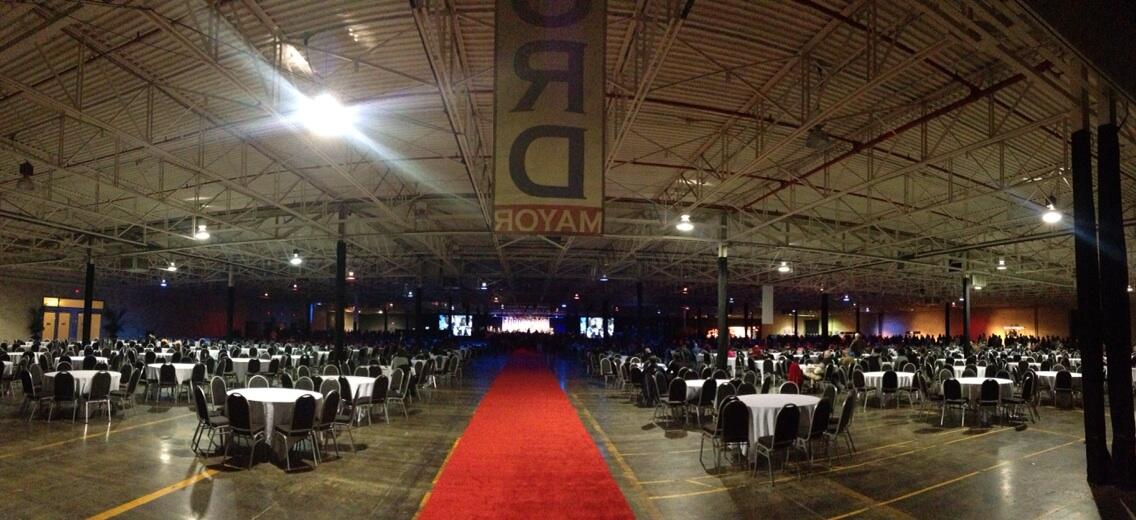 The Ford campaign booked an enormous banquet hall; rented tables, chairs, tablecloths, sound equipment, etc.; shelled out for servers and other staff; hired a rock band and bagpipers; hung large printed banners; gave away free alcohol and snacks; handed out other freebies; and brought along an old fire truck as a prop (which brother Randy bought for $4,000 at an auction). There were probably many other expenses too.
Whenever I see these massive Ford crime family events, I wonder who the hell is paying for it all. What political financing laws are being broken? What business expenses and tax refunds are being claimed illegally? How much drug money is being laundered? I doubt the full costs will ever be revealed to the authorities and the public.
In the last Toronto election, more than one third of the [on-the-books] money donated to the Rob Ford mayoral campaign came from outside of Toronto, from people who could not vote in the Toronto election. Many of the people at his April 17 kickoff event do not live in Toronto either. In May, Ford's first fundraising event for this campaign (a $300-a-plate gala for the rich elites he claims to hate) will be in Vaughan instead of Toronto. A few months ago, wackjob city councillor Giorgio Mammoliti (a Ford ally) held an illegal fundraising event in nearby Woodbridge, at which lobbyists and other sleazy operators paid $5,000 per table. This is the kind of backroom corruption that the Fords pretend to oppose, but fully embrace in practice.
Attendees of the Ford kickoff party who spoke to the media displayed low intelligence, pathetic gullibility and almost no sense of reality. They are lost causes who will never be swayed by facts, so the Olivia Chow campaign has to move past them and focus on getting her own supporters to vote in October, and on convincing swing voters to come on board.
Torontonians cannot be complacent. Although polls show Chow in the lead, when one takes into account the margin of error, there is essentially a three-way tie between Chow, Ford and John Tory (Ford-lite). The election is months away and everything is still up for grabs. A Ford or Tory victory would be another win for the rich corporate elites and their cronies. Chow is the only option.